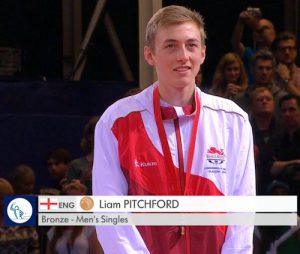 Brimington Social Club supports several local teams, groups and individuals these include;-
Brimington Club Football Team – the team are based in the club and currently compete in the Chesterfield Sunday League
The local Ju Jitsu club –   meets in the concert room every Wednesday evening.    Why not pay a visit one Wednesday see how the young ones learn Ju-Jitsu  taught by qualified instructors. The pupils are taught self defence & discipline.
The club have a Pool team that play in the local Monday evening league.
Brimington Social Club have for the last 13 years sponsored young local table tennis player Liam Pitchford, during this time the club's support has seen Liam rise to No.1  Senior in England and No.57 senior in the world as well as winning two medals at the 2010 Commonwealth Games in Dehli and three medals at the Glasgow games in 2014 including the first ever individual medal by an English table tennis player. Liam competed for Team GB in London 2012 and Rio 2016 Olympic games. Liam has also won the English Senior Men's National title three times. In Spring 2016 Liam led the England team which won the bronze medal at the ITTF World Team Championships, the first medal won by an England team since 1983 and the first time a newly promoted team has won a medal at the championships.
Our chosen charity is "Ashgate Hospice" for which we occasionally hold fund raising events.